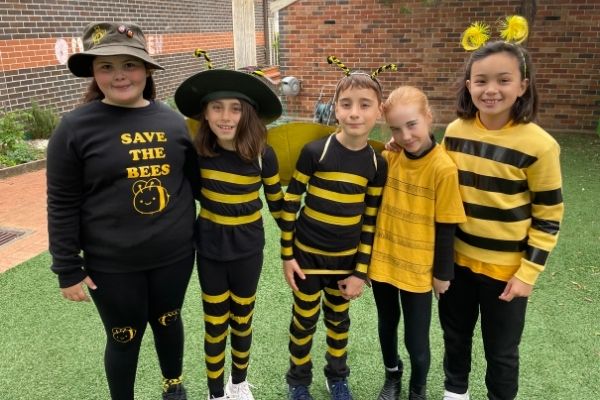 On Friday 21 May, St Joseph's Catholic Primary School Rockdale partook in the celebration of World Bee Day. The purpose of the global event is to raise awareness of the importance of bees and beekeeping.
For St Joseph's, having a very active environmental committee who are always working in the school gardens, it was inevitable that staff were urged to apply for a Woolworths Gardening Grant so as to show their commitment to the cause. Working on this application alerted the school to the fact that bees and other pollinators were declining worldwide.
"We decided to take action and see what we could do about planting more native shrubs and flowers that might attract pollinators to our local area," says Assistant Principal Kylie O'Donnell. "As we are a Newman school we decided we would task this garden project to our stage 2 and 3 STEM classes."
In the meantime, our Year 3 students have been working on a science unit on Living and Non-living things. As part of this work, Year 3 have designed and built a pollinator garden in the school, researching bee friendly flowers and designing bee homes. They have also recorded facts about bees and designed "Save the bees" posters, using Canva. With the help of their classroom teacher, Mr Smith, they have been educating other students in the school on the matter of bees and why they are needed to help other living things to grow and survive by sharing interesting facts at assembly each day.
When Mr Smith suggested that the school celebrates World Bee Day, it was also considered a great way to raise money for the Archdiocese of Sydney Charitable Works Fund.
For more information about World Bee Day, visit the website: https://www.worldbeeday.org/en/